The Available Husband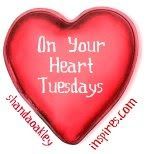 Jesus makes a great husband not to mention an awesome communicator.
Here's what happened to me this morning in my kitchen as I finished cleaning up after breakfast.
My kitchen faucet lever snapped off while the water was flowing full blast and steaming hot.
I panicked like a crazy woman.
My hubby just left for the Recreation Center in a nearby town 15 miles from our home.
I couldn't reach him on his cell.
I was in a tizzy and that's when I called on the Name of the Lord. I picked up the broken piece amidst the blast of steaming water and tried to fit the jagged edges together to at least shut off the flowing water.
It worked.
Years ago we nicknamed my husband "Dice" for fun and it fits him perfectly because you never know what you are going to get. I learned that he didn't even have his cell phone with him this morning! When I finally calmed down and resumed praying, Jesus got a heavy dose of praise for being there. I thought long about the immediacy of His Presence; He always is there. He said He would never leave me and He meant it.
Do not be afraid or discouraged, for the Lord will personally go ahead of you. He will be with you; he will neither fail you nor abandon you." Deu 31:8
"I will never fail you. I will never abandon you." Heb. 13:5
I will be with you as I was with Moses. I will not fail you or abandon you. Joshua 1:5
Modern technology is a blessing. I was able to contact my daughter who also works out at the Rec Center in the early hours of the morning. She did have her cell and was able to track down Dice so he could pick up a new faucet while he was there in town. But, I have to say, nothing beats the instant attention of the Lord. I'm never alone when I'm with Him and the neat thing is that I don't have to leave a voice message nor do I have to go through some influential big name for access to Him. Whisper His Name and He's there! He's the available husband.
This post links up today to Shanda at A Pause on the Path