This Balm is Divine
If I could package a divine healing balm and wrap it real pretty and tie it with a bow, I would. I would give it out as gifts to all my friends and family who are hurting as we enter the holiday season.
It was last week, in fact, when I came home late in the evening and discovered as I got ready for bed that the left side of my lip was sore and puffy and felt lacerated. I remembered a Christmas gift my good friend and mentor, Helen, gave me years ago so I went into my medicine cabinet to find it: Bag Balm! Helen told me that it always works and heals quickly. I rarely get cold sores or lip sores so I forgot all about the balm. It has amazing properties and just like Helen said, it worked thoroughly and effectively. By morning, my lip was healed.
But there's a greater healing. For several months now, our Life Group has done an intense study on the Blood of Jesus. His Blood is powerful. It changes people and situations. It restores the prosperous and the poor. It improves circumstances. It is all sufficient. It heals, it helps, it cleanses and it delivers. It can't be contained in a gift box with a bow, but it's the greatest gift to give. Likewise, it is the best gift a hurting person can receive. I'm giving it today as I pray for those who phoned me this week for prayer. I'm pleading the Blood of Jesus on the one who is financially strapped, on the one whose spouse wants to leave, and on the one who faces surgery. In fact, I can't think of anybody who can't use it. It's that good of a gift! This Balm is divine and I'm thankful for it.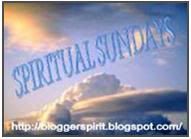 This post links to
Spiritual Sundays
hosted by Charlotte.